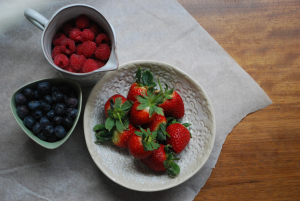 When winter arrives so do the inevitable coughs, colds and general seasonal bugs. As you may know, we at Cooking them healthy like to find ways to use food to strengthen and heal the body and we have been focusing on selecting ingredients that support immunity & help us fight off the first signs of a sniffle.
Choosing ingredients that are rich in health boosting antioxidants can make a real difference to your bodies ability to ward off bugs.  Antioxidants are valuable nutrients, including vitamin A, vitamin C, vitamin E, beta-carotene & selenium, which have been shown in studies to help provide us with additional immunity against colds and other infections.  Antioxidants also have an anti-inflammatory role within the body which means that focusing on specific foods when you are unwell can make a significant difference to your recovery.  Inflammation is part of the body's natural response to an infection and plays an important role in helping the body's healing process. It is possible however for levels of inflammation to become out of control, leading to increased symptoms, weakened immunity and potential chronic illness. Anti-inflammatory nutrients can be used effectively to help bring the body's immune response back into balance. With this in mind we have chosen some brilliant store cupboard and freezer staples packed with goodies which are great to have on hand over the winter months.  These ingredients can either be used as a base for a recipe (as we have done with our delicious immune boosting recipes) or just thrown into whatever you are cooking to provide a nutritional boost:
Garlic, Onions & Ginger
These all have wonderful natural bacteria fighting and anti-inflammatory properties which can be so beneficial during the winter months. Garlic is particularly brilliant at helping protect us against colds and can be added to so many dishes.  The finer you chop the garlic the more pungent it becomes.  When garlic cloves are cooked or roasted whole the flavour softens and turns almost sweet however garlic burns very easily and when it does it turns bitter and unpalatable. Onions also have useful anti-inflammatory and immune supporting properties therefore make a great addition to winter dishes. Ginger is very warming and acts as a natural decongestant.  It can also have a soothing effect on digestion & nausea when you have a stomach bug.
Spices
Spices are a fantastic source of valuable antioxidants and we feel they are greatly underused in much of today's cooking. Traditionally spices are used for all manner of conditions, from helping to aid digestion to reducing inflammation and we like to use them wherever we can in our recipes. Don't be afraid of introducing heat and flavour to your children's diet – more often than not people are surprised at how they love it and it's an effective way to help broaden their palette. Chillies are rich in vitamins A & C which are useful immune boosting nutrients. The capsaicin found in chillies also can help to clear congestion from a cold.
Leafy Greens
Vegetables such as kale, spinach, swiss chard, pak choi etc (all in season over the winter months) are packed with vitamins and minerals and immune boosting antioxidants.  If your child has an aversion to anything green on the plate then it can be helpful to just try adding a small amount to familiar dishes (such as spinach in fish cakes or kale in chicken pie) – even small amounts are better than nothing and you can slowly build up the quantities as tolerance improves.  Soups and sauces are also a great way of disguising greens as they can be combined with other flavours and textures.
Tinned tomatoes
These are a rich source of vitamin C, one of our top immune boosting nutrients. They are also packed with a powerful antioxidant, called lycopene, which plays a protective role within the body.  It is so useful to have a few tins of tomatoes in the cupboard to provide a base for pasta sauces, curries, lasagne, chilli, stews etc.
Frozen berries
These provide the ideal freezer food for an immediate nutrient boost. Berries are a fantastic source of immune boosting antioxidants such as vitamin C and the blue, deep red and purple colour of berries are an excellent source of compounds known as flavanoids – these enhance the benefit of Vitamin C. I often put a couple of handfuls of berries in a blender with some natural yoghurt for a delicious instant berry ice cream.
Chicken Stock
Stock, ideally homemade, contains a wealth of nutrients which play a key role in the healthy functioning of the central nervous system, aid growth, repair and wound healing in the body and supporting digestive health.  It is brilliant to have at hand for homemade soups and risottos and I also use it to cook a lot of my grains and pulses in. Stock adds a real depth of flavour and as it is so nutrient dense it provides a healthy boost.
Sweet Potatoes and Butternut Squash
Orange-fleshed vegetables that we associate with winter such as squashes and sweet potatoes are a rich source of vitamin C and beta-carotene (a pre-cursor of vitamin A). They also possess anti-inflammatory properties and provide a perfect addition to comforting stews and curries, giving a lovely sweetness when cooked. They work particularly well with spices too.  Both are delicious simply cut into chunks, sprinkled with cinnamon,  drizzled with coconut oil, and roasted in the oven until caramelized around the edges (approx 20-30 mins at 200).
THINK RAINBOW
Notice how bright some of our winter staples are. This isn't just to make your plate look good it is also because they contain valuable phytonutrients (a colourful range of plant compounds found in fruit and vegetables). Good nutrition used to be just about vitamins, minerals and food groups however with advances in nutritional research, we have started to understand some of the health benefits of including a rainbow of colours on your plate.
WHAT NOT TO EAT
It is best to steer well clear of sugary things when you are feeling under the weather.  Sugar can suppress the immune system and contribute to inflammation.  Dairy foods (milk, cheese, cream, ice cream, yoghurt) are believed to increase mucus production so try and avoid these if your child is suffering from a cold or cough.
DID YOU KNOW?
Certain nutrients help with our bodies to absorb other nutrients. For example, vitamin C helps us to absorb iron and as a result they are often found together in foods, such as kale. We also need fat to help us utilise a number of the vitamins found in many vegetables such as vitamin A, vitamin K and vitamin E (these are known as fat-soluble vitamins). The coconut milk & stock in our recipes help us to get the most from our veg. Try adding a drizzle of olive oil or butter to your cooked vegetables to increase their health benefits on the body.
The following recipes are bursting with fantastic ingredients to support your child's immune system, helping to keep them fighting fit over the winter months. Try to cook these dishes regularly, and they are particularly beneficial at the first sign of a cold.
Recipes coming soon…