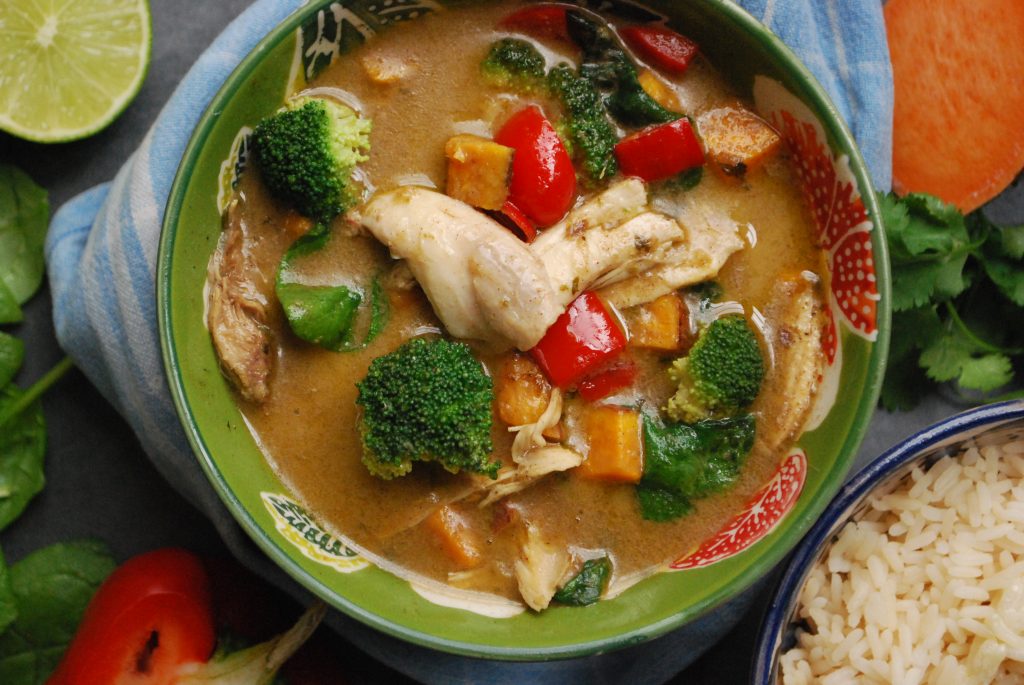 After you have enjoyed a delicious family Sunday roast, simply pull any leftover roast chicken of the carcass and keep it to one side to make this dish.
It's full of warming flavours and we often lift them even more by adding a quick drizzle of kefir on the top just before serving with a big bowl of wholegrain basmati rice and some buttered seasonal winter greens.

Curry in a Hurry
Ingredients
1 small red onion, sliced
2 cloves garlic, sliced
1 lemongrass, roughly chopped
1 inch thumb of ginger, skinned and sliced
Handful of fresh coriander (approx 15g), roughly chopped
3 small green chilli, seeds removed and roughly chopped (Do check their level of heat before using as if "blow your socks off" you may wish to reduce the amount. Cut the tip off the chilli and test it on your tongue.)
A couple of tablespoons of water to help it turn in the blender.
1 tsp ground cumin
1 tsp ground coriander
½ tsp cinnamon
1 x 400ml coconut milk
1 red pepper, cut into 2cm cubes
1 small sweet potato, cut into 2cm cubes
Handful of broccoli florets
Llarge handful spinach leaves
3 tbsp curry paste
350g approx roast chicken
Instructions
For the paste:
Simply place all into a small blender or coffee grinder and blitz. You can also do it by hand or in a pestle and mortar until you have formed a rough paste. This will make enough for 2 curries so freeze the rest for a time where you might be feeling run down and need a boost.
For the curry:
Heat about a tablespoon of coconut oil in a large frying pan or wok and let it melt and warm over a medium heat. Add your sweet potatoes and give them a good stir through the oil and cook for a few minutes.
Next add your red pepper and again cook for a few minutes.
Add your ground spices and cook out for about 20 seconds to a minute, careful not to let them burn.
Then add your curry paste and add in your coconut milk. Let everything simmer away for up to 10 minutes and stir. You want the sauce to thicken and reduce until its coating the back of your spoon and rich with flavour.
Stir through your leftover chicken pieces and broccoli and cook through and heat for a few minutes, then add the spinach just before serving allowing it to just wilt.
Notes
This curry would work well as a vegetarian dish as well as with white fish and prawns.