Despite the great initial Easter egg anticipation we find once the chocolate excitement wanes, we tend to be left with plenty of leftover chocolate. These redundant leftover eggs provided us with a lightbulb moment –  the perfect recipe to use it all up, clear the Easter decks and enjoy one last chocolate hurrah. It also reduces temptation for Mums & Dads to keep persistently nibbling on the children's leftover chocolate eggs!
This cake is chewy and delicious and almost brownie like in texture. It is made with coconut flour and coconut oil so is gloriously gluten free and dairy free (you would obviously need to check the chocolate you are using).
Coconut flour has a higher protein content than regular flour, and is also naturally grain free so kinder on tummies. We have kept the sugar content to a minimum and as far as chocolate cakes go, this one is superior in the nutrient stakes. We hope you enjoy it, and if you are anything like us, will be relieved to say goodbye to those Easter eggs.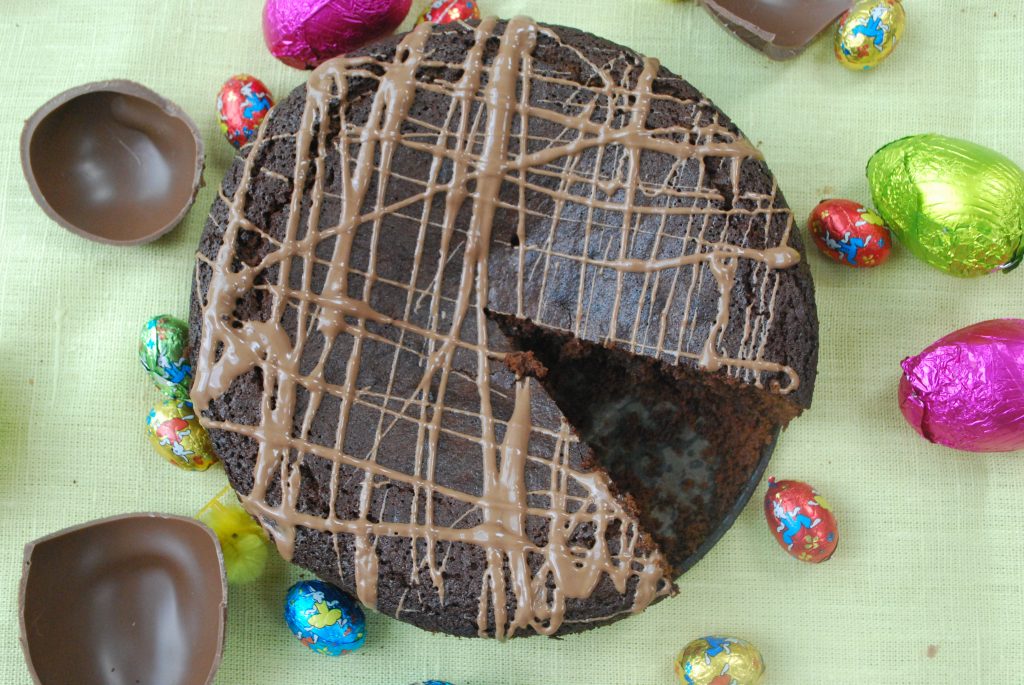 Chocolate Cake
Prep time:
Cook time:
Total time:
Ingredients
100g coconut flour
2¼ tsp baking powder
250g left over chocolate (we used everything from white, milk and dark)
20g cocoa powder
110g coconut oil melted
3 eggs
100g coconut sugar
drizzle of melted chocolate for decoration
Instructions
Line and grease a 20cm springform tin and pre-heat the oven to 180 degrees (fan assisted).
Mix the coconut flour and baking powder together.
Melt the chocolate and coconut oil together in a bowl sitting over a pan of simmering water. Then mix in the cocoa powder.
Beat the eggs and sugar together.
Mix the cooled melted chocolate into the beaten egg & sugar mixture then gently fold in the coconut flour until well combined.
Pour the mixture into the prepared tin and place in the middle of the oven for 20 minutes, then turn the temperature down to 160 for a further 10 minutes.
It should form a lovely dark crust and when inserted with a skewer it should come out clean.
Leave the cake to cool in the tin for 5 minutes before releasing and cooling completely.
Drizzle with a little melted chocolate and serve with cream, Greek yogurt or coconut yogurt.