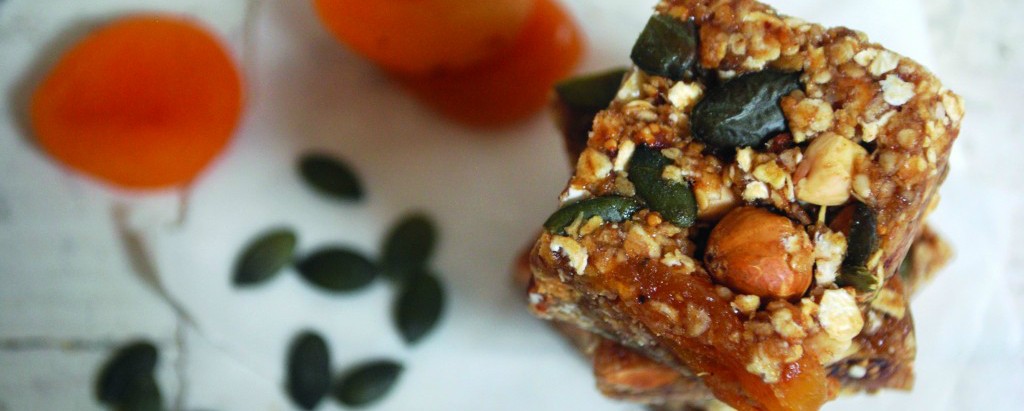 These are a great option for lunch boxes or an after school snack as they provide an instant energy boost and as they are packed with blood-sugar balancing protein from the nuts and seed, fibre and a useful energy boost from the dried fruit. As they do not contain any refined sugar eating these will help to avoid the energy slump that comes from so many treats.
As well as being high in protein, the nuts and seeds are rich in beneficial fats, important for brain and skin health. Roasting them really brings out their flavour. The dried fruit brings plenty of natural sweetness and is also full of fibre to help support healthy digestion.

Easy Energy Granola Bars
Ingredients
60g Hazelnuts
60g Almonds
40g Sunflower seeds
40g Sesame seeds
40g Pumpkin seeds
80g Dried apricots
80g Figs
120g Oats
120g Smooth Peanut Butter
120g Honey
120g pitted Dates
30 ml (2 tbsp) water
Instructions
Preheat the oven to 200C.
Firstly, place your dates in a small bowl and cover with the water. Place in the microwave for 1 minute to soften. (If you don't have a microwave you can do this in a saucepan).
Then puree the dates with a hand blender or using the back of a wooden spoon to squash down to a paste.
Place your nuts and seeds in a bowl or plastic food bag and bash with a rolling pin to break them down slightly. Mix in your oats and then pour this all into a roasting tin and roast for 10-15 minutes until the nuts have browned and the oats lightly toasted.
Chop up your figs and apricots.
In a saucepan add your honey, peanut butter and dates and stir all together until a soft paste.
Mix everything together.
Turn out into a roasting tray lined with non-stick baking parchment until a few centimetres deep and place in the fridge to firm up.
Cut into small squares and enjoy.
Notes
TIP: When a recipe calls for toasted nuts try to do extra and keep them for another time. They can be used to jazz up food with their delicious crunchy texture and provide a fantastic protein boost - for example, sprinkle roasted almond flakes over a curry, add creamy cashew nuts to a stir-fry or pine nuts tossed over a cake. Alternatively you can buy great pre-roasted nut and seed mixes (opt for the unsalted varieties) from most supermarkets which can transform a salad or blanched greens. Don't underestimate how much children like seeds and nuts; they love the crunchy texture and make a great snack to have on the go.