This is a deeply warming, fragrant and aromatic recipe that is sure to be a hit with all the family. It would also work beautifully as a delicious dinner party meal. The chicken stock and spices are gentle on tummies, and provide a welcome nutrient boost at a challenging time of year.
This dish is delicious served with steamed buttered greens and a bowl of fluffy rice, quinoa or wholegrain couscous (if tolerated).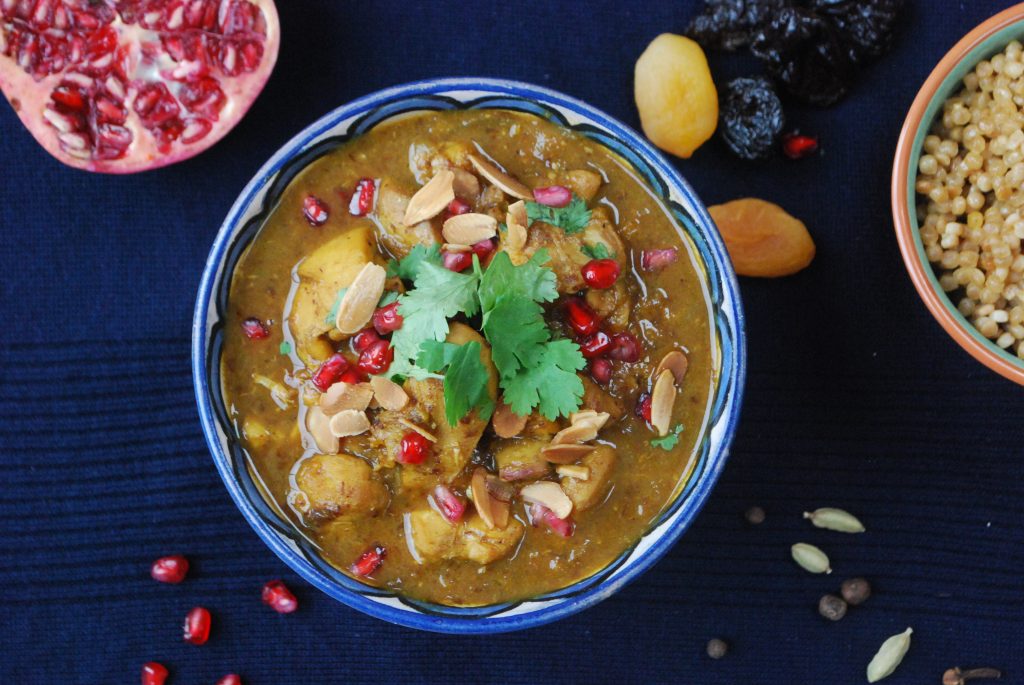 Persian Chicken
Prep time:
Cook time:
Total time:
Ingredients
Coconut oil or ghee (for cooking)
Fragrant Spice Mix
1 cinnamon stick
2 thumb sized piece of fresh turmeric
¼ whole nutmeg
6 whole cloves
6 cardamom pods
6 All Spice berries
6 dried apricots
1 large clove garlic, finely chopped
10 prunes
400ml chicken stock (preferably homemade)
2 onions, finely chopped
4 chicken thighs, boned and cut into bite sized pieces
Fresh pomegranate seeds
A handful of Coriander leaves
Toasted flaked almonds
Instructions
Place all the spices into a blender or coffee grinder and blitz to a fine powder.
Next add some coconut oil or ghee to a saucepan and cook the onions on a medium heat until softened and slightly coloured. Add the garlic and cook for 30 seconds.
Then add the chicken pieces to the pan and stir to seal.
Add in 2 generous tsp of the fragrant spice mix and stir to combine. If the onions & spices are starting to burn or catch on the bottom of the pan, simply add a splash of water.
Pour in the chicken stock which will bubble and begin to reduce. Next add the dried apricots and prunes, bring up to a gentle boil and then a simmer. Place the lid onto the saucepan and cook gently for 10 minutes.
After 10 minutes remove a piece of the chicken, cutting it in half to check it is cooked through, then return it to the pan. Take the pan off the heat and move the chicken pieces to one side and the prunes and apricots to the other. With a hand blender, blitz the apricots and prunes (avoiding the chicken) to make a quick sauce. Stir everything together and serve hot. Scatter with torn coriander leaves, toasted flaked almonds & pomegranate seeds if desired.