The lovely people at Little Dish have kindly sent us their shiny new recipe book, 'The Family Cookbook' to try out… so we have! The arrival of the book on our doorstep was most timely with plenty of spare time to fill during the summer holidays, and we have enjoyed spending a rainy afternoon creating some of their fab recipes (boo to English summer but hurrah to fun cooking sessions).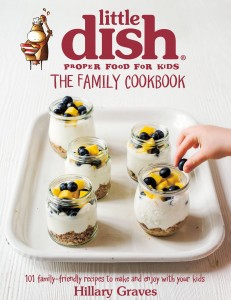 The book looks great with lots of colour and wonderful clear pictures, and of course, what we love, plenty of delicious & inspired homemade recipes. There is also a strong focus on encouraging little ones to get involved in the kitchen, helping to gain confidence and inspire enthusiasm for cooking. We particularly like the 'Little chef's skills chart' to help them keep track of the new skills they are learning such as rolling meatballs, filling muffin cases and working towards separating egg yolks and whites.
There is a job suitable for every small pair of hands in the kitchen helping to make his book accessible for the whole family. We are sure parents will enjoy eating the delicious dishes too. A great all-rounder that is bound to become a firm favourite in many a family kitchen.
The Little Dish Family Cookbook is available from Amazon and Waterstones and all good supermarkets, RRP £14.99.