These baked falafel provide the perfect picnic fare and everyone can have fun helping themselves, creating their favourite flavour combinations. They also work brilliantly served on their own with dips, or as a speedy lunch option. Falafel are packed with protein, fibre and calcium from
the chickpeas, as well as immune- and digestion-supporting herbs and spices such as turmeric, cumin, garlic and coriander. We have paired them with two delicious dressings: sweet tahini and fragrant harissa. We love to wrap them on a bed
of pickled beetroot and top them with fresh coriander, sliced avocado and ribbons of carrot and cucumber. Then just drizzle and enjoy!
Baked Falafels
Ingredients
• 225g drained tinned chickpeas
• 1 clove garlic
• 1⁄2 a red onion (we use red as they are sweeter)
• 1 tsp cumin
• 1 tsp coriander
• 1⁄4-1⁄2 tsp chilli powder or cayenne pepper (depending how much heat your family likes)
• 1⁄4 tsp turmeric
• 2 tbsp spelt flour (or gluten-free flour as required)
• a large handful of mixed fresh parsley and coriander • salt and pepper to season
• approx 20g sesame seeds
Instructions
Preheat the oven to 190C.
Drain and rinse the chickpeas and blitz them in
a blender to a paste. Add the spices, onion, garlic, flour, seasoning and pulse to combine. Don't blitz for too long as you want to retain some texture. Stir in the fresh herbs.
Next, roll the herby chickpea mixture into balls and coat them in sesame seeds
Place the falafel balls on a lined baking sheet and into the oven for 5-6 minutes. Turn and cook for another 5-6 minutes until they have taken on a little bit of colour.
Serve with a wrap or pitta pocket, sliced vegetables of your choice and our delicious dressings.
Notes
These are much healthier because they're baked. You can also try grating half an apple into the mix to give it some sweetness and adding a touch more flour.

Please scroll down for our Tahini Dressing and Quick Tzatziki recipes.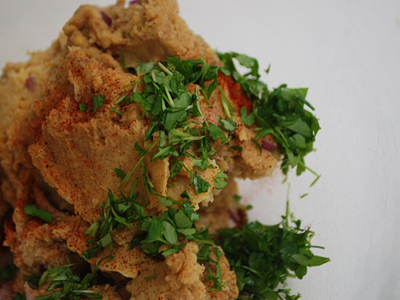 Tahini Dressing
Ingredients
• 2 cloves garlic, grated or pasted • 2 tbsp tahini paste
• 1 tbsp lemon juice
• 2 tbsp olive oil
• 1⁄2 tbsp water
• a drizzle of honey to sweeten, to taste
Instructions
Combine all the ingredients and add the water to loosen (the colour will lighten considerably on adding the water).
Notes
I often add a tablespoon of honey to mine to give it a slightly sweet taste.
Quick Tzatziki
Ingredients
½ a cucumber, grated on largest grate
4 large tbsp Greek yoghurt
A few sprigs of fresh mint, chopped
Salt and pepper
Instructions
Grate the cucumber and with your hands squeeze out the excess water.
Place into a bowl and mix in the yoghurt, seasoning and chopped mint.
Harrisa Dressing
Ingredients
• 1⁄2 red pepper (pre-roasted chargrilled in a jar work well, too) • 80g peppadew peppers available in most supermarkets
• 1 chilli - check the heat on the tip of your tongue. (If this is for young children I would advise using half)
• 1 clove garlic
• 1 tsp caraway seeds
• 2 tsp cumin
• 2 tsp tomato puree
• 4 tbsp olive oil
• 1 tsp smoked paprika
Instructions
Place all the ingredients except the olive oil into a small blender, or use a stick blender to blitz all until pureed.
Add the olive oil to help thicken and emulsify the dressing. This dip keeps brilliantly in the fridge.