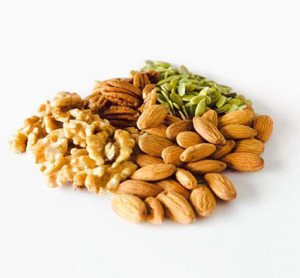 The taste of nuts and seeds really comes out when you cook or roast them slightly. You can do this in a dry pan on the hob (on a medium heat).  Just shake the pan occasionally and watch the nuts change colour gently. Take off the heat when they have turned a few shades darker and let out a nutty smell.
Alternatively, place the nuts in a baking tray and roast at 200 degrees. This can take between 10-15 minutes (depending on your oven and the nut). After 5 minutes in the oven give them a stir to redistribute. Put back in the oven and continue to cook until they turn a light golden brown.
When a recipe calls for toasted nuts try to do extra and keep them for another time. They can be used to jazz up food as they add another texture and gentle taste such as roasted almond flakes sprinkled over a curry or pine nuts tossed over a cake.
Alternatively you can buy great pre-roasted nut and seed mixes from most supermarkets which can transform a salad or blanched greens. Don't under estimate how much children like seeds and nuts as they are often thought of as an adult taste but contain so much goodness.
Nuts (almonds, Brazil nuts, cashew nuts, walnuts, etc) and seeds (sesame, sunflower, pumpkin, etc) are a rich source of protein as well as beneficial monounsaturated and polyunsaturated fats which possess important anti-inflammatory properties and support heart health.
Protein is vital for growth and repair in the body. Nuts and seeds also provide essential vitamins and minerals, particularly vitamin E, selenium and chromium.
Coconuts deserve a special mention as they are the health heroes of the nut world with fantastic antibacterial properties in addition to the good fats they contain. Research shows that coconut oil can also help boost metabolism and weight loss in the body. Coconuts contain medium chain fats that our bodies are able to use easily as an energy source.
Did you know that if you placed any nut in to a blender and blitz it would make its own nut butter? It really is that simple and much better than shop bought. Why not try it with almonds, peanuts, or cashews?
See recipes below: